Apple has been nothing short of brilliant in generating buzz for the iPad during the entire product launch cycle. They will get a ton of free press just from an email they sent to all of the folks who pre-ordered their iPads. We got ours this morning at 1:54AM indicating the iPad we pre-ordered on March 12th has shipped. It will be coming via UPS from Shenzhen China!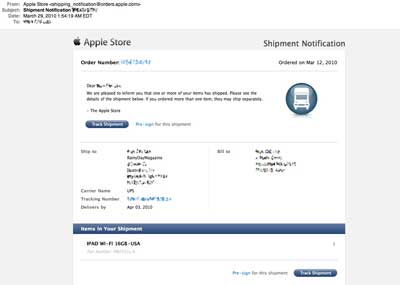 The pre-order sales of the iPads have been huge…120,000 units were snatched up in the first 2 hours after it went on sale. It appears that the first production run of iPads have all been spoken for. New orders will now have a delivery date of April 12th. For those who did not pre-order but still want one on April 3rd, the Apple Store and Best Buy will have limited number of iPads available for walk-in buyers. You can be sure there will be fanboys and girls camping out on the night of April 2nd. For those waiting for their UPS shipment, April 2nd will feel like Christmas eve.
Of course, we'll record the iPad "unboxing" event on April 3rd and will post pics as soon as possible.
Mar 30 Update: 
The iPad shipment received its "Export Scan" and cleared Guangzhou at 11:50AM. It weighs 1.4Kg and is being shipped via Express Service.
Apparently our iPad has arrived in the US and is now somewhere in Anchorage. This is better than NORAD's SantaTracker!
March 31st update: 
The iPad has made its way to Louisville KY. It checked in with the UPS folks at 1:36AM, ate breakfast, pee'd, and is now back on the road. BTW, is there an app for this?
April 2nd update: 
After sitting in the UPS center in Louisville Kentucky for a few days, the iPad is once again back on the road. It left the warehouse at 7:18 PM and arrived at Windsor Locks CT.
So it looks like it will be here in MA sometime tonight and be ready for delivery to folks in Boston tomorrow. Even though it is the weekend, there will be a lot of excitment at the office tomorrow!
April 3rd Update: 
The iPad has left the East Boston warehouse and is now on its way. We'll have the full unboxing event once we have it in house. If it doesn't get here soon, the interns' heads may explode. They may anyway.