Unaccompanied Minors...
The Brando USB microscope came with a CD containing drivers for the Windows platform. We installed the XP driver and tried the application which came with the microscope.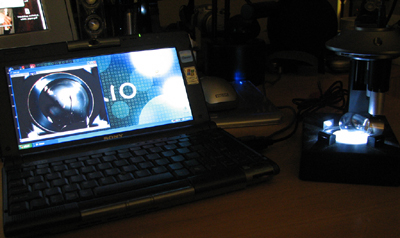 We looked at a few different things under the microscope: the bulb with the burnt out filament was from our brake light replacement project a few days ago; a passiflora flower we snipped off our plant on the porch. Click on any of the images for a closer look.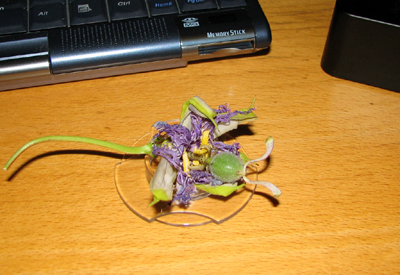 The included software is a VERY basic viewer with almost no other capabilities. We knew we had to look elsewhere for something more useful, hopefully something that would allow this microscope to work on a Mac.

We thought it would be hard to find an application which could drive the Brando USB microscope on a Mac. The application a lot of folks use is miXscope from EdH Software. Unfortunately, the Brando microscope is not yet supported.
The next application we tried was the open source macam. macam is a driver for USB webcams for OS X.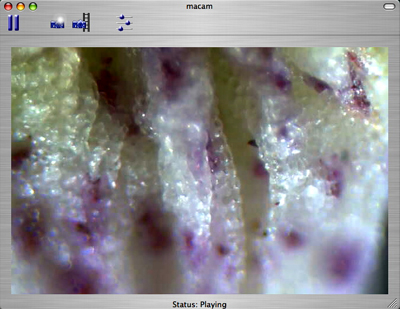 Amazingly enough the device was supported! It was much easier to get great shots using the macam than what came with the microscope for the PC.

While macam does not have all of the funtionalities of miXscope, it does the basics and it runs on the Mac :-) We'll continue to play with this surprisingly high quality microscope. Hopefully we'll have some interesting videos soon. - Wan Chi Lau (permalink)
For all you readers who sent in guesses this month about the mystery item posted last July, the wait is over :-) This is cool-looking device is actually a USB Microscope from Brando.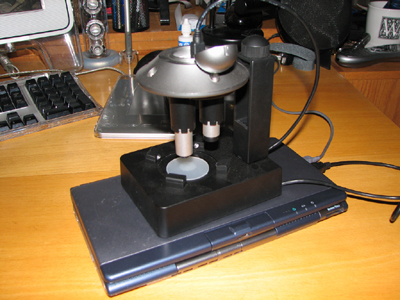 This portable microscope is much smaller than the QX5 we looked at back in 2005. Check out the scope's specs here. Click on any of the images for a closer look.

There are three built-in lenses mounted on a circular platform. The desired magnification is selected by rotating the objective (the lens, for the uninitiated) into place. USB ports and switches for the various LEDs are at the rear of the unit. It also has two USB 2.0 ports, allowing the unit to act as a hub...very convenient when using with a laptop.

In a nice simplificaton of the design of the microscope, the imaging electronics is connected to the base via an external USB cable. The port is at the top underneath the dome cover.

There are two sets of LEDs for illuminating the objects on the viewing platform. One set lights from underneath. The other set is mounted on and illuminates from the side. A removable diffuser may be placed on the stage to even out the lighting.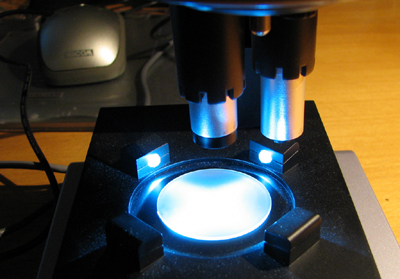 Next up is our FirstUse review of this fascinating Brando USB microscope. There is another built-in function not yet mentioned in this review. Anyone care to tell us what it is? If you know, send the answer in an email with the subject line "I can SEE it!" We'll pick the winner on Labor Day and send you this equally cool tool...which will definitely save you some labor. - Wan Chi Lau (permalink)
USB flash drives and portable microdrives are in the pockets of many folks. They are the tools of business...serious business. That was true until the recent mimobot invasion!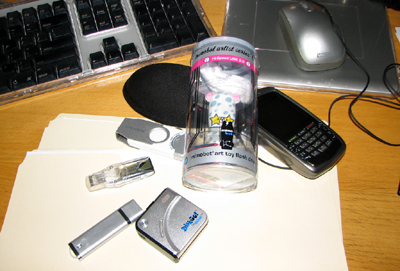 mimobots are flash drives with an artistic bent. They come in different storage sizes (512MB - 4GB) and more styles than you can imagine. The one which landed at our doorstep is PupStar #52 of 2000.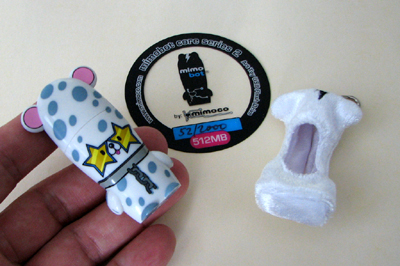 The PupStar came with its own fuzzy zippered coat. It must know something about the New England winters.


The mimobot will interface with any standard USB port. When properly connected, they will emit a happy red glow. The mimobot's glow flickers when they are soaking up data. Transfer speeds of both USB 2.0 and 1.0 are supported.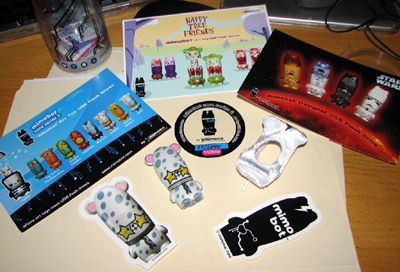 You can bring a mimobots to a business meeting or the boardroom. Your PowerPoint presentation will look just as good running from a mimobot as from a regular flash drive. However, just know that if a mimobot is seen by a 16 year old intern, be prepare to give it up :-) - Wan Chi Lau (permalink)
Today is the last day in Boston for our West Coast Summer Intern. Sarah was in Boston for six weeks attending a high school honors program at BU (we had her weeding the RainyDayGarden last summer).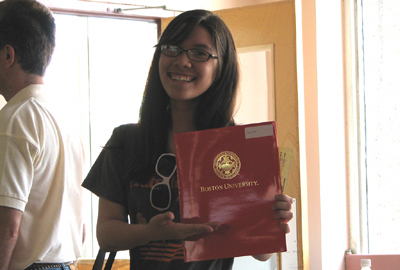 We were her guardians again this Summer, but this time we didn't have to entertain her with gardening chores. All that was needed was to get her situated in her dorm, find her some footwear more suitable for walking around Boston (or rather, being seen walking around Boston), and get her laptop hooked up to the BU network.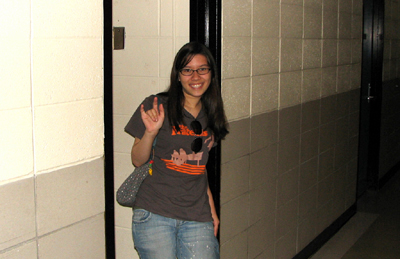 After meeting our assigned custodial duties, we left her to her own devices for the next six weeks. We did check in on her periodically to make sure she could stil be returned in relatively good condition.
Sarah did quite well at her summer college courses at BU. She had signed up for a 300-level graphic design class but dropped it after a day because it was too easy. Instead, she decided to give "Intro to Black and White Photography" a try.

At first, Sarah found the analog nature of 35mm film, working in a darkroom, and developing photos rather confusing. I believe her first question was "What? No Photoshop?" followed by "What is film?"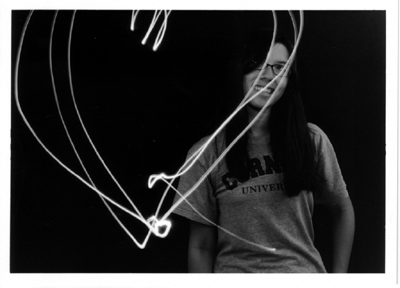 However, at the end of six week, Sarah is hoping to find a darkroom to rent when she is back in LA. Apparently, "dodging," "burning," and working the analog way is kind of fun :-)

We'll miss having Sarah around for the rest of the Summer. Hopefully she'll be back soon. Hey, maybe she can be our new in house photographer? - Wan Chi Lau (permalink)
At the beginning of the Summer, RainyDayMagazine got in a batch of Explorer Ops gear. They all looked really cool and even though we wanted to play with them ourselves, we knew we had to send them off to our junior reviewers for a proper field test. The gear was shipped off with instructions to report back in a few months. Well, the reports have begun to come in.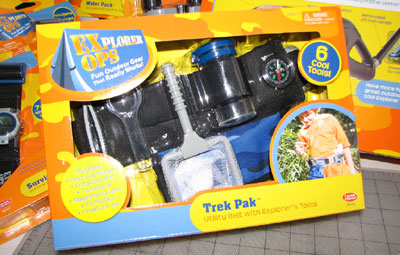 Today's FirstUse report is on the Explorer Ops Trek Pak from Laura and Lila: "I'm emailing you so that I can report back to Lila that I did. She was SO excited about the toys. I don't think she's ever been so thrilled about a present in her entire life. As she opened each piece, she'd say to her father (who was trying to nap) "Dad! Look, a compass! Dad! I have a magnifying glass! And tweezers! And a bug-catching jar! And a stopwatch! And..." etc.

When I said you'd sent them to us, she said, "Tell him I said thank you! Tell him I really really really really really really really like them!" She heroically allowed pictures to be taken and I told her I had to write a "report card" of the gear, so now she keeps asking me, "Did you thank Wan? Did you send the report card?"


We took them outside and caught various bugs for a good long time. (We found out that ants are fast!) She's been wearing the watch nonstop -- to the beach and to preschool today -- and keeps checking the compass to make sure we're going "the right way." I just wanted to tell you, from Lila, THANK YOU!
Well, Lila, you are welcome!!! - Wan Chi Lau (permalink)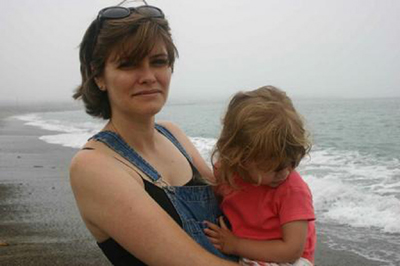 "Hey mom...what's that?"
Today we took possession of a shipment of the complete collection of Harry Potter audio books. This series is published by Random House and is ALL read by Jim Dale. As we mentioned on Sunday, we thought it would be interesting to listen to the ENTIRE series in one sitting! Quick...somebody tell us how many CDs that is and how long it would take to listen to the entire series?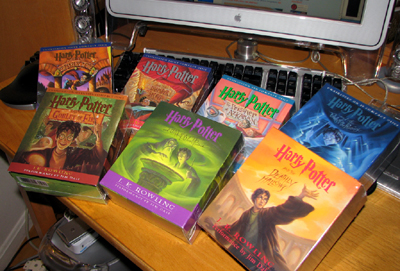 BTW, what we had failed to mentioned to our Summer intern is that we thought that it would "interesting" for her to listen to the entire series in one sitting :-) - Wan Chi Lau (permalink)
Last Thursday we gave everyone a quick preview of the Hornet3. Those of us who were not consumed by Potter fever were busy earning our Hornet3 pilot's license.

The Hornet3 is a tiny helicopter perfect for indoor flying. Click on any of the images for a closer look at the various components (RC controller, main rotor, rear stablizer).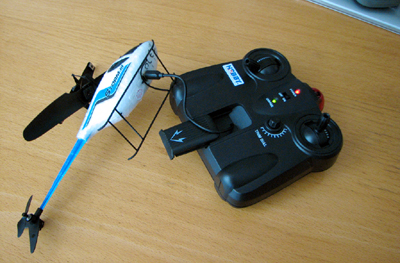 Before we could get this bird in the air, we needed to charge up its internal Li-Poly battery. The charging cable is built into the RC controller and conveniently allows the unit to double as a charger for the Hornet3. The charging port is integrated into the underside of the body of the helicopter.

The green LED indicates charging is in progress (red indicates power). Charging is complete when the light goes out. It took about 20 minutes to fully charge the battery.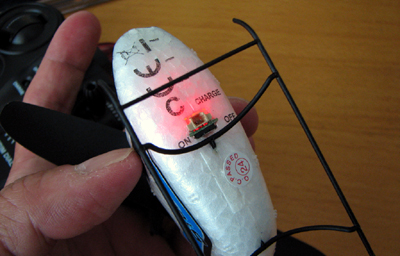 Once the Hornet3 helicopter was fueled up, we gave the manual a once over, the controls a quick "preflight" safety check, and powered up the bird. The rotors roared to life with a flick of the left control stick. We applied a little more power and we were off! The rest of the day was spent inadvertantly dive bombing the cats and annoying those trying to read.

We can get the Hornet3 up in the air, but have yet to master getting it to go where we want it to go. This tiny helicopter is great fun for indoor flying. Just make sure you have a clear space to practice before attempting to navigate the cubical canyons! - Wan Chi Lau (permalink)
The object below showed up at the RainyDayMagazine's office on the same day as the Hornet3. We thought it was a most interesting design for...well, we won't ruin the surprise for now.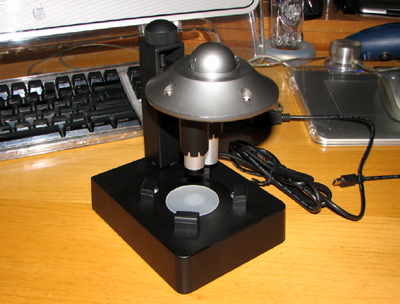 Is it a remote control UFO? A USB-powered nuclear reactor? What is it??? Find out on our next TechToysTuesday! - Wan Chi Lau (permalink)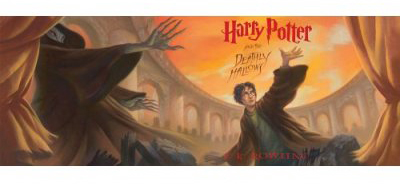 VERDICT: Satisfiying read, worth the wait
Both our grammatically-correct Contributing Editor and our sassy-yet-fun-to-have-around West Coast Intern spent the the ENTIRE day yesterday reading the last installment of the Harry Potter series, all seven hundred and fifty-eight pages of it. They are spending today in a bit of a haze/daze, just turning over in their minds the story; they can't even talk to each other about it yet...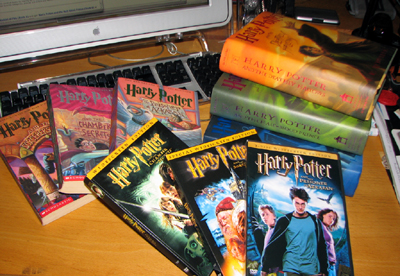 Now that the final story has been told, we are going to watch all of the movies and reread all of the books in one go. If we can get our hands on the audio books, we may have another "Potter Marathon" some time in August! - Wan Chi Lau (permalink)
Harvard Yard was temporarily transformed into Hogwarts Yard last night. An estimated 15,000 people were on hand to hear some very very bad but still entertaining bands (The Hungarian Horntails, Draco and the Malfoys, Harry and the Potters). The crowd didn't seem to care. They were there to share in the experience of the magic of Harry Potter.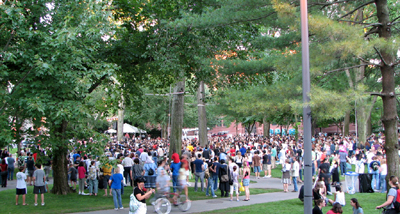 Muggles and wizards mingled freely on the grounds well into the night. Everyone was trying to find ways to pass the time until midnight when "Harry Potter and the Deathly Hallows" went on sale.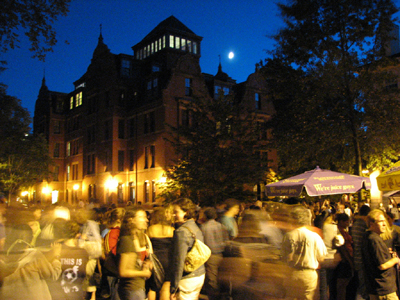 When it started to get dark, we left and headed to the Barnes & Noble at Chestnut Hill. The store was at near capacity at 11:30PM. People of all ages were milling about looking at everything but the thing they really came to see...the last Harry Potter book.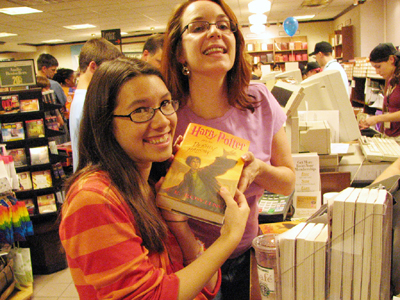 At the stroke of midnight, a horn sounded and the buying frenzy began. Both Carolyn and Sarah were able to snag early copies because Carolyn had gotten there earlier in the day and got a low number. I have not heard a peep out of them since. - Wan Chi Lau (permalink)
This little snippet of news is for those of you out there who do not care about the iPhone or Harry Potter. A package containing a cool-looking RC helicopter showed up at the office yesterday. This HobbyTron unit is even smaller than the MicroMosquito we played with back in February.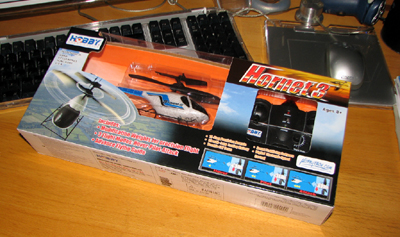 The Hornet3 comes complete with the helicopter, remote control, and spare parts. You will need six AA batteries (for charging the Li-Poly battery inside the helicopter and powering the RC unit). Normally, everyone will be fighting over the controls. I will take the opportunity to play with this over the weekend while everyone is reading! - Wan Chi Lau (permalink)
Do we really have to tell you that the final book of the Harry Potter series will be coming out at Midnight this Friday? We didn't think so!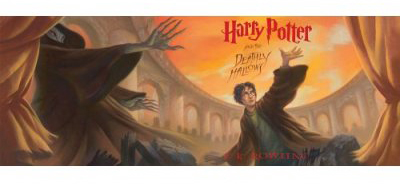 The crew at RainyDayMagazine will be revelling in Harvard Square this Friday evening, partaking of all countdown festivities. The interns will also be in line at Barnes & Noble in Chestnut Hill for the midnight purchase of the book. Carolyn and the interns drafted up a detailed plan (hmmm...why couldn't all the projects here be this well planned???) for this weekend:
We attend the Harry and the Potters thing in Hahvihd Skway-uh on Friday evening, enjoying ourselves until exhaustion or hunger overtakes us.
We retire to the office until 11:48pm, at which time we drive to the Barnes and Noble in Chestnut Hill, where we will have previously obtained our pre-order tickets for one book each.
We take the money from petty cash and buy the books (at a steep discount because we are Barnes and Noble members).
We rush back to the office, declare our reading spaces, and open the book.
We read until we fall asleep, then we wake up and continue on reading until the books are completed.
When all of us are finished (and no one has said anything to the other about ANY thing in the book), we take the rest of the money in petty cash and go out to eat and discuss book (or perhaps not discussing it in public, since we may be surrounded be people who do not have as good a Harry Potter plan as us and therefore have not been able to get to the bookstore on opening day and we wouldn't want us to spoil it for them).
We sit there semi-stupefied, saying "Wow, I can't believe it ended that way," over and over again until The Managing Editor (TME) can't take it anymore and says "Enough! It was a good book, okay already. Let's go make a radio out of a potato(e)."
We go back to our normal lives.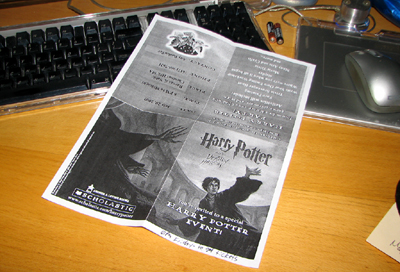 Just so everyone is aware, there will be no updates to the site this weekend as everyone here will be nose deep in the book. - Wan Chi Lau (permalink)
July 11,2007
Corporate lawyer to Lego artist...this is the career path of Nathan Sawaya. We think he definitely moved up!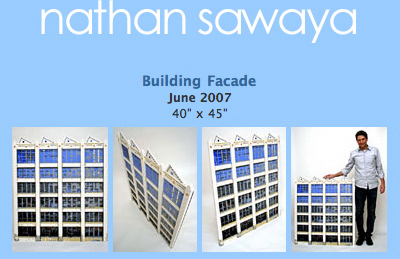 Nathan buys his bricks from Lego in bulk. In his studio are millions of the little pieces, some assembled, others sorted by color neatly stacked in bins. Check out some of Nathan's creations... Brooklyn Bridge, Liberty Statue, etc...
We urge our readers to look for Nathan's touring show, The Art of the Brick, coming to a museum near you in the US.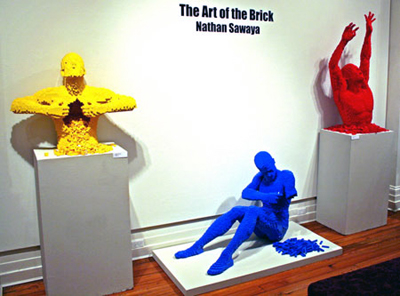 The world could use a lot less lawyers and a lot more artists. If you have made a similar move up in your career or know of someone who has, drop us a line. We would be happy to share the inspiration. - Wan Chi Lau (permalink)
RainyDayMagazine and 10,000 of its closest friends were on hand at Castle Island to celebrate the annual turning of the USS Constitution.
Happy 4th of July!!!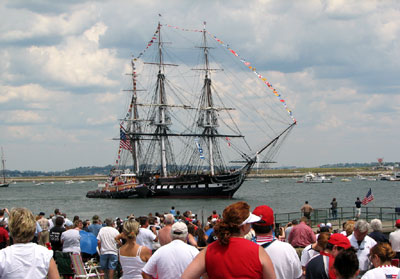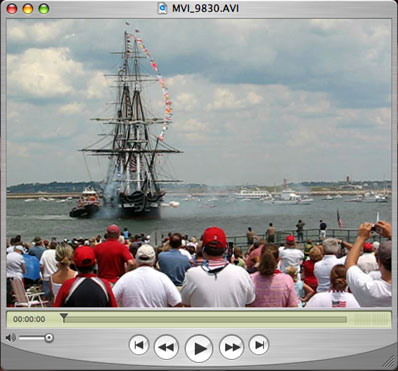 This event is well known to the residents of South Boston and surrounding neighborhoods, but is otherwise kept "secret" from everyone else :-) This year, you can watch a clip of the firing of the guns captured using our repaired Canon S2. - Wan Chi Lau (permalink)
Here is a museum tip for you out-of-town RainyDayMagaziners: The new ICA museum is now open. We grabbed this shot when we were down there a few weeks ago wandering around.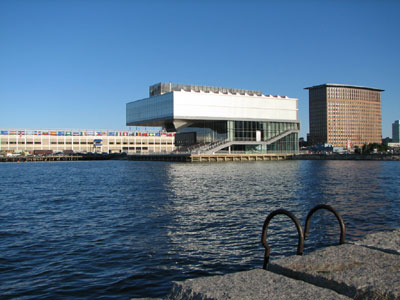 This brand-spanking-new museum building is a must see for anyone interested in contemporary art. It is located on Boston's newly developed waterfront and is easily accessible by public transportation. - Wan Chi Lau (permalink)
This week's WowUsWednesday entry is from Karen N. After reading about our Zome structures, Karen sent us a link to Richard Sweeney's collection of forms in paper.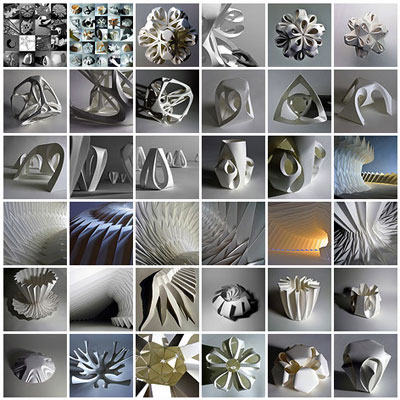 We got the color version of the Zome today. While we had fun playing with Glo version, the color kit would make it MUCH easier to visualize and construct the more complicated structures.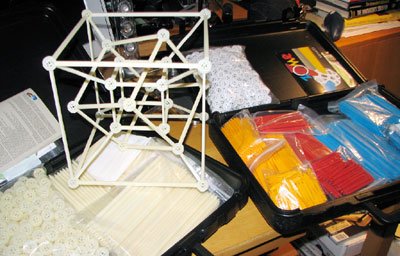 To thank Karen for clueing us in on Richard's amazing sculptures, we'll be sending her the Glow-In-The-Dark Zome kit once we are done playing with it. Karen, when you get it, make something cool and send us a pic :-) - Wan Chi Lau
The Blue Hills Trailside Museum and Reservation is only a short drive from the RainyDayMagazine office, so we packed up the crew and headed over for a visit a few weeks back.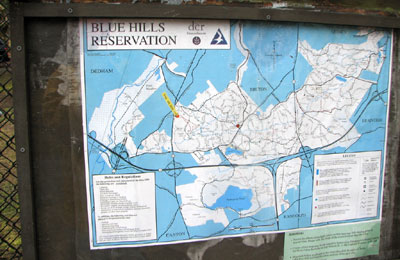 This Mass Audubon santuary is more than a fun hike (or a hard hike, depending on what you're up for). There are all kinds of events and activities for kids thoughout the year. It is also a sanctuary for injured and recovering wildlife of all kinds.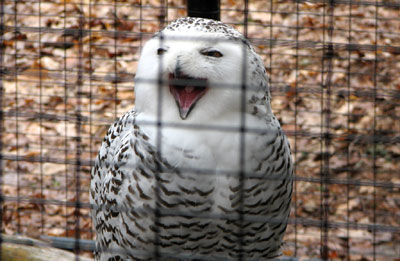 When we were there, we got to see a Snowy owl, a Red Tail hawk, and a fawn...all of whom had sustained some kind of injury. Most are permanent residents of the Museum because even though they have recovered from their initial injury, they would not be able to survive in the wild (one of the Red Tail Hawks had been blinded in one eye, for instance).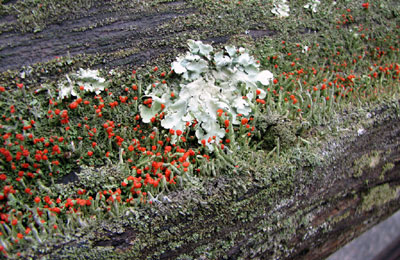 The Blue Hills Reservation trails offers all kinds of things to find and see. Not all are furry or feathery, but they are all interesting if you take the time to look. - Wan Chi Lau
Wild Planet makes a lot of really cool toys. Our interns have had the pleasure of playing with a bunch of of them in the past. They were so impressed that when they learned that Wild Planet had an entire line of toys for exploring the outdoors called Explorer Ops, they insisted we get them all.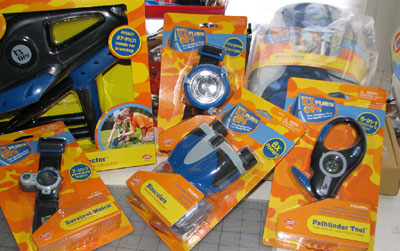 We are not exactly sure what all we got, but every piece looks really cool! Most of them have multiple functions and they all "really work"... at least according to the interns :-)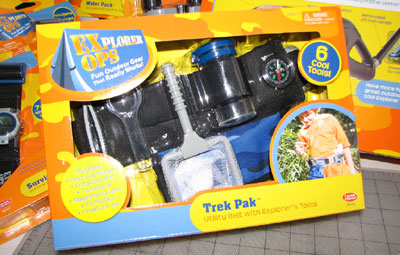 We have a few eager testers chomping at the bit to "test out" all of this gear. However, they will have to wait until we are done with our FirstLook :-) - Wan Chi Lau
So many of you have asked to see pics of the "glow-in-the-dark" Zome Hypercube that we decided to post one even though it is a bit grainy.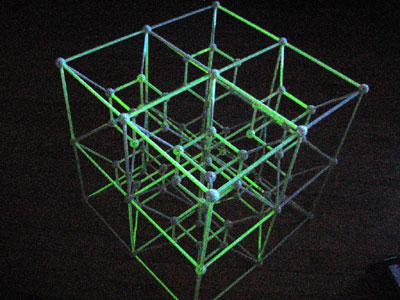 We tried for quite a while but couldn't figure out a good way to get a good "glow" image in a darkened room. Any suggestions from any of our Pro photography readers?
In any case, we have been busy trying our hands at other different 3D constructions. We quickly came to realize why Zome had different colors for their connectors. It would be much easier to see the symmetry at different layers when they are of the same color.

The color version of this construction kit will be coming in a week or two. We will make some of the more complicated structures using the different color connectors. You can then be the judge as to whether it is easier to see the internal symmetry. - Wan Chi Lau
We know, we know...it's Monday and the last thing you need is somebody trying to convince you that math is fun. However, with Zome, it REALLY is fun. Computers can make visualizing complex structures easier, but there is nothing like making the structure and holding it in your hands.
A four dimensional hypercube is impossible to construct in our three dimensional world. The closest possible structure we can make is what a 4D hypercube's shadow would look like in a 3D world.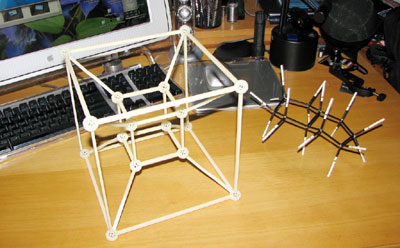 If you are having trouble visualizing it, try the following: first imagine how 3D object's (the cube) shadow would appear in a 2D world (the wall). Now take that one step further...where each corner of a 4D cube is a 3D cube, flatten one of the dimensions and you will get the shadow of the 4D hypercube as a 3D cube above. Don't worry, that explanation didn't help us neither.

Zome construction kits make the creation and exploration of these and other types of complex geometric structures simple, quick, and fun. The wide range of precise connection angles is the key to the connector sphere's flexibility.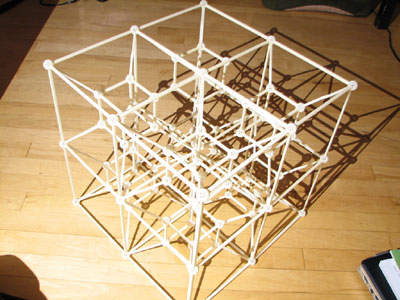 It is possible to construct some fairly complex structures with the Zome Construction Kit. We are going to try making some Fullerenes for our next project. - Wan Chi Lau
This week is SciTech week in Cambridge, so we thought it fitting we feature some fun science toys on RainyDayMagazine. Zome was first mentioned back in 2004.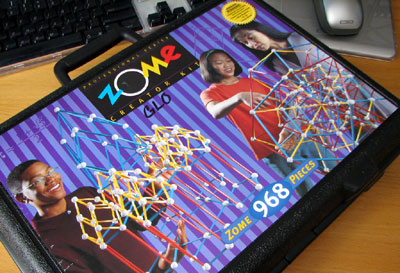 Their product are the modern version of the erector set. With Zome, one can explore the micro-structural world of virus or that of the four dimensional hypercube.

The key to Zome's versatility are the globe-shaped connector nodes. They enable the construction of structures which would be impossible to make with other kits.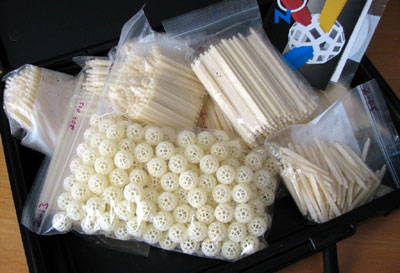 The folks at Zome have been constantly expanding their offerings for both kids and adults alike. We thought the Glow-in-the-Dark Creator Kit we got is a great addition to the line up. What should be the first structure we build with this kit?- Wan Chi Lau
Starting this Saturday to the end of the month (4/21-4/29), Cambridge is hosting its first city-wide Science Festival.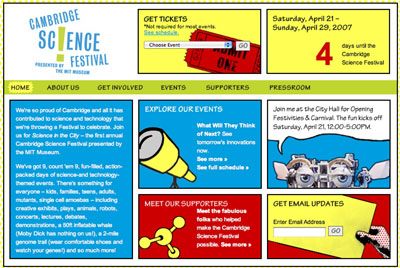 There will be SciTech themed events all over the city. Some will be demos, others will be hands-on, all of them promises to be lots of fun! So check out the events calendar and mark down what looks interesting to you.
Maybe finally we'll be able to settle the long-argued questions of whether the earth is flat and whether evolution is real. Well, you if you lived in Boston, you wouldn't get much debate about the second question :-) - Wan Chi Lau
Recently a few readers have asked us about the Evil Genius series of DIY books, so we got a few from the series, along with an assortment of others to see what they are like.

Most of us here at RainyDayMagazine have done our share of hacks and mods, and we are looking forward to checking them out and letting you know what we think. - Wan Chi Lau
February 19,2007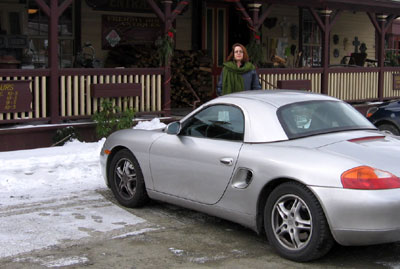 Boston has been thawing out the past few days. The wind is still whipping pretty good, so going outside is quite a "refreshing" experience. The sun was shining and the snow was sparkly yesterday, which made a few of us want to go for a drive, but where to? How about someplace warm? How about tropical forest warm?

We had heard about Magic Wings, is a butterfly conservatory that is open all year around. Since it is only a little more than a hundred miles from Boston (in South Deerfield MA ), it was the perfect destination for a day excursion, and so off we went.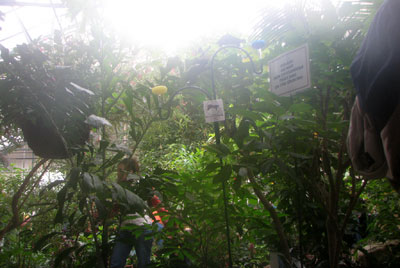 At Magic Wings, the butterflies flitter about freely. The huge glass conservatory houses about 3000 butterflies (20 to 30 different spiecies) at any given time. There are also large varieties of nectar producing plants, providing both food and shelter for the insects.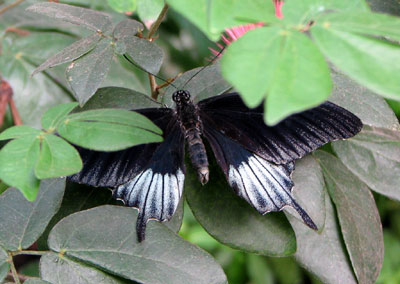 At Magic Wings, there are more than just butterflies on display... many of which are just as fascinating as the butterflies. Some visitors (the girl visitors) may not agree :-)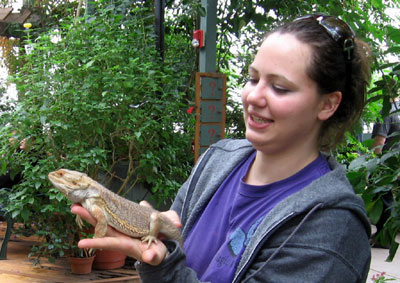 It is hard to capture the "magic" of this place, but here are a few clips of the visit to give you a better feel of what it was like to be inside a with thousands of butterflies floating by. The clips a kind of large so they may take a while to download if your connection is slow.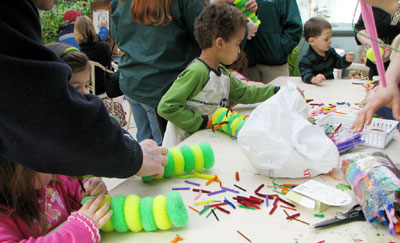 If you are looking for a warm family-friendly place to go (reasonable admission, two types of restaurants, activities for the kids), the Magic Wings Butterfly Conservatory is definitely worth the visit...oh, and leave the coat in the car :-) - Wan Chi Lau
February 12,2007

Flying a remote-controlled (RC) helicopter indoors either require a lot of room or a tiny helicopter. If you don't live in a loft, then what you may want is the MicroMosquito RC Helicopter we got in house last Wednesday. This RC chopper is very very small... about 6.5" in diameter and 9" total in length.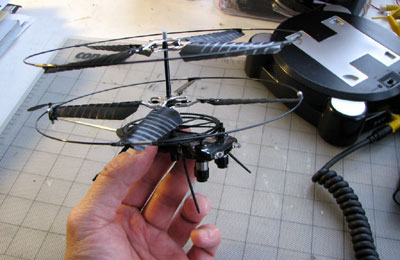 The entire package comes complete with a MicroMosquito helicopter, a RC controller, and the charging base. To get things going, we needed a 9V battery for the RC controller and six C size battery to power the charging base.

In the right photo, you can see the power switch, the battery, and the front LEDs. In the left photo, the rear rotor and central rotor gears can be seen. Click on any of the images to get a closer look.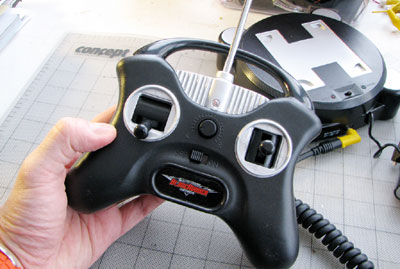 The controller is pretty simple to use. Unlike single rotor designs, the difference in rotation speed of the counter-rotating rotors will cause left/right movement. The rotation of the rear propeller will direct the helicopter to move forward or back. The right joystick controls these functions. The left joystick controls the power to the rotors, thus controls the vertical lift of the MicroMosquito.
The MicroMosquito must be charged using the charging platform. The platform can house six C size battery for portable charging. It also has a socket to allow the use of an AC power adapter (not included). The AC adapter need to output 7.5V at around 400mA.

Since we had a Tekkeon myPowerAll battery, we decided to use that to power the base to charge the MicroMosquito. We have found the Tekkeon to be excellent for a lot of different tasks... especially with the ability to select different tips and voltages.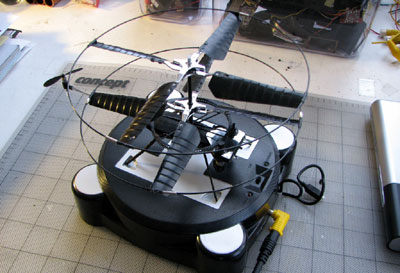 The MicroMosquito is now ready for charging. We are not sure how long that will take, but once it is fueled up we will take it for a spin. In the next installment of this series, we'll show some pics and videos of our attempts to fly the MicroMosquito around in our editor's office. We have assured him that nothing "bad" will happen :-)- Wan Chi Lau
February 7,2007
If you want to be "WOWed" and have some fun, the Micro Mosquito may be just the thing.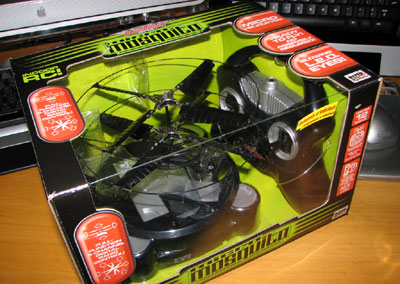 Like the other radio-controlled (RC) helicopters (BladeRunner, DraganFlyer) we have reviewed in the past, the MicroMosquito is perfect for those with little to no RC experience. The counter-rotating blades makes the unit easy to fly and the small size makes it perfect for indoor flying. We know what we'll be doing the rest of the day... videos to follow :-) - Wan Chi Lau
We also have news of something kind of different coming in the Spring. This interesting RC flyer called Dragonfly is from Flytech. Instead of rotating blades, it has actual flapping wings!
We don't know much more about it at the moment, but we are guessing it has to be pretty light. The physics of this flyer must have been pretty interesting to work out. We are looking forward to getting some hands-on time and telling you more about this in a few months! - Wan Chi Lau
January 26,2007
CubeWorld blocks are inhabited by stick people. When the cubes are placed next to each other, the stick figures can "interact". They all have their own particular personality. Some even have pets!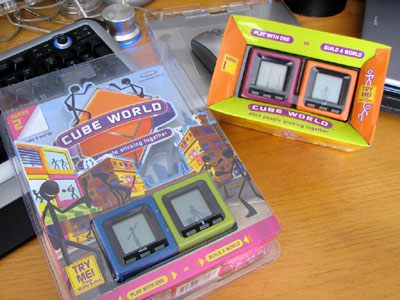 We showed you Series One last year. We even took one apart to show you the insides. Series Two
and Series Three
are now available. The kids here have not had a chance to play with them yet, but we don't expect too much work out of our interns on Fridays... so there is a good chance we'll get some feedback on these new cubes today. - Wan Chi Lau
Tops are amazing toys. They are simple, entertaining, and have remained virtually unchanged for hundreds of years...until now.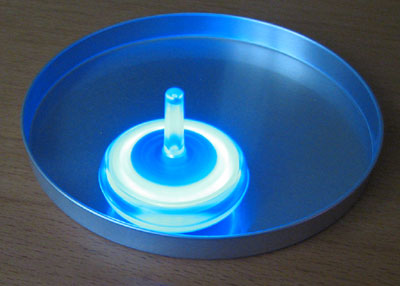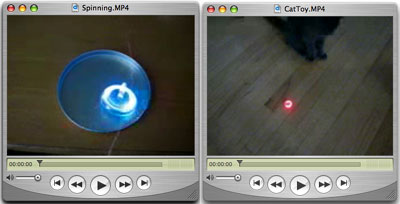 Grand Illusions, the same folks who sell the Metal Pen, also has this "perpetual top" in their toy collection. The top is powered by batteries. Just a little spin will get it going. The top lights up in different colors when spinning and will keep spinning... until something stops it. - Wan Chi Lau
November 25,2006
We heard about the tree lighting event in Roslindale Square just as we were heading out to run some errands. Since it was on the way, we thought we would swing by to snap some pics of the start of the holiday season :-)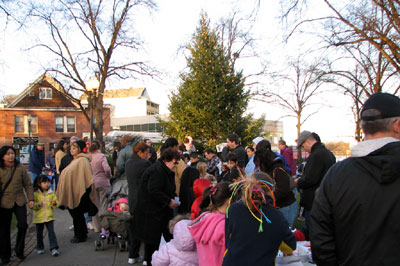 It turned out to be a very pleasant little gathering. The village green was alive with music and carolling. The Mayor of Boston was there. There were kids running around, making tree ornaments, or just waiting for Santa to show up.


We were helping ourselves to some cookies and hot chocolate when a fire engine came howling down Cummins Highway. Most of the kids knew right away it was Santa and ran to be the first in line to sit on his lap to tell him what they wanted for Christmas... others were just too tuckered out to care :-)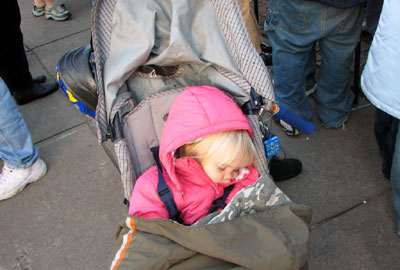 October 30,2006
iPlayMusic promises to teach you guitar and let you sing with your kids. We here at RainyDayMagazine wanted to find someone who had a guitar AND kids to check it out. Jeremy, user interface expert and guitar playing reviewer, fit the bill.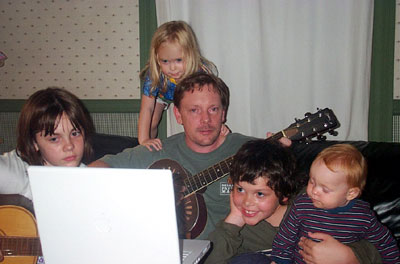 According to Jeremy, this software is a good example of what can be accomplished when you have good video content and use the Mac's quicktime toolbox. Go check out his full review here and see if it could help you and your family make beautiful music together!
October 29,2006
Last weekend we took in the beautiful Fall weather with a walk around Walden Pond. We wanted to get back in time for the giant PumpkinFest in Boston, but we ended up bouncing around Concord instead.


Some of the folks in the office were disappointed that we were not on hand to witness the record pumpkin lighting event in Boston, so were determined to find something similar. What they came up with was a ride on the Great Pumpkin Express at Lookout Farm in South Natick, MA.
The first "train" ride starts at 6PM. We got there around 7PM. The crowd was pretty light and we got on the train without having to wait in line. Good thing too since it was about 40º out.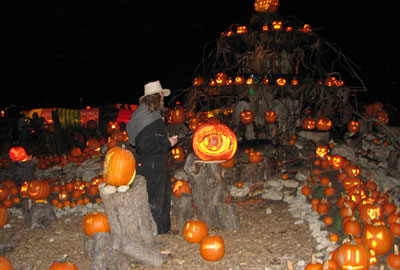 There are anywhere from 3000 to 5000 pumpkins on display at any given time. Click on any of the images to get a closer look. The crew at Lookout Farm is constantly carving new ones. It takes about 15 people about 90 minutes to light all the pumpkins every night.


Many of the amazingly carved pumpkins are made by artists from around the country. We saw a wide variety of themes and styles...some scary, some funny, all were beautifully done. The Great Pumpkin Express was quite a treat and got everyone here in the right frame of mind for Halloween!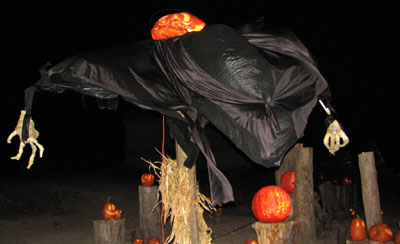 The Great Pumpkin Express will run until Halloween (Tuesday). There are events going on at the Outlook Farm all year around. Check their calendar if you are looking from something fun to do for the whole family.
September 1,2006
Below is a pic of Erin Brayton, owner of 18 Birch Home and Garden in Roslidale Village, presenting a check for over a thousand dollars to Julie Brandlen, Sanctuary Director of the Boston Nature Center (BNC) in Mattapan.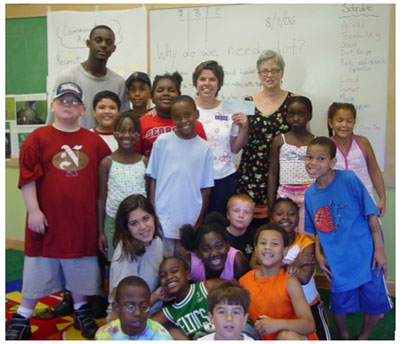 The money, which will help to support the BNC's environmental education programs, was raised at a benefit held at 18 Birch. Erin and Julie are pictured with the "Hawks," attendants of the BNC summer camp. The camp provides an all-inclusive, safe and educational opportunity for children ages 6 –13. The BNC and 18 Birch plan on continuing this successful partnership!
August 23,2006
Sarah, our RainyDayLA intern, has created a little something with her friend Chase. We are not sure exactly what it is...but we are old.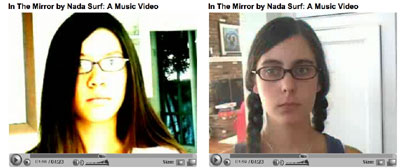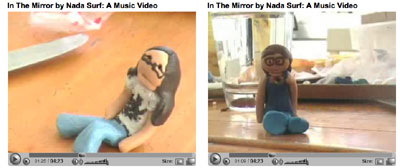 Interns...you just never know what they are up to, but one thing is for certain, they are having more fun than we ever did when we were growing up :-)
July 27, 2006
Play...we do a LOT of that here at the RainyDayMagazine office. Mostly we play with gadgets, but sometimes we get a chance to play with actual toys :-)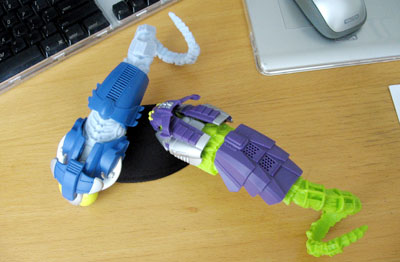 These little creatures have been in the office since the beginning of the Summer. We had been so busy playing with the other stuff that we didn't get around to them until today. If you are the first to tell us how to play with these things...we'll make sure you get a reward for your efforts. Send your answer to us with today's Napster tune as the subject line.
Play time is more fun when you can get the entire family involved. iPlayMusic's PlayMusicTogether software is designed to encourage the family to learn how to play the guitar.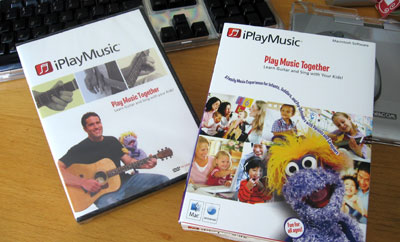 The software takes advantage of the Apple's GarageBand and iTunes software for learning, recording, and sharing your performances with friends and family.
One simple way to share the music is with the B-Bop from Radica's GirlTech line. The B-Bop can record and playback audio from any source.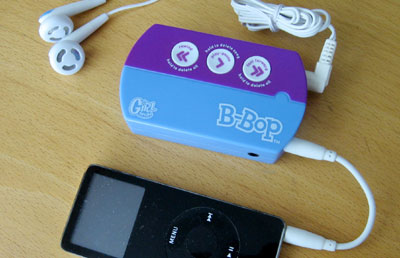 Just plug the B-Bop into the headphone jack of an iPod, CD, or MP3 player, push the "Play" button, and it'll record up to 30 minutes of audio. Come to think of it, this gadget is a pretty handy device for grabbing audio from a lot of sources :-)
March 30, 2006
The new crop of Tech Toys just came to the RainyDayMagazine office today. All work grinded to a halt as folks gathered around the UPS guy (btw...his nickname here is Santa Bob) to see what was hot at ToyFair 2006... it is not like we don't already HAVE enough diversions in our office.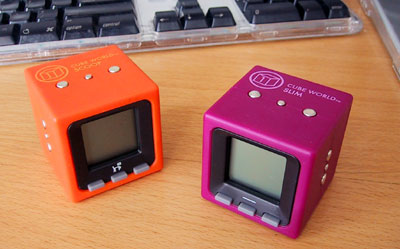 The instant hit of the bunch at the office was a package from Radica containing a couple of cubes. For those who were caught up in the Tamagotchi craze, you may want to be a little careful with these cubes.
Each Radica Cube World package contains two different cubes. There are currently four different ones available. Each Cube contains a stick character with a distinct "personality".

The stick figures can move around from one Cube to the other, give each other "High Fives", and even stick fight :-) We have more of these Cube on the way to the RainyDayMagazine office. We are going to build a little Cube World. We'll have videos of the different interactions in a few days. In the meantime, go check out our FirstLook here.
January 1, 2006

(Happy New Year!!!!!)
We want to welcome two of our newest product reviewers... Liam and Hayley! Both Liam and Hayley live down in Bermuda. Some kids have it SO tough :-) Hayley is a 13 year old triathlete. Hayley routinely finishes first or second in her category Sponsors, are you listening???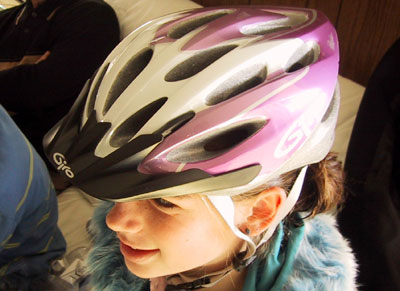 She will be helping us field test triathalon related (running, biking, swimming, training) gear for the RainyDaySports and Unaccompanied Minor sections.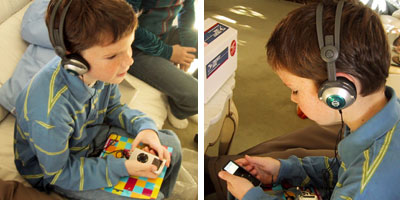 Liam is an eight year old gadget wiz and will be helping us out with his thoughts on gear for kids. He will be taking his own digital pics of the products he will be reviewing.
December 14, 2005
Laser Chess was created by Mike Duppong back in the late 80s, and you can find lots of software versions (regular, 3D, Advanced) of the it on the web. However, what actually wowed us was that a brazilian student named Alexandre Van de Sande actually made a actual working laser version of the game! The dry ice effect definitely made it really cool looking. Thanks goes to our reader Mark T. for the tip...we'll be sending you something fun in the mail :-)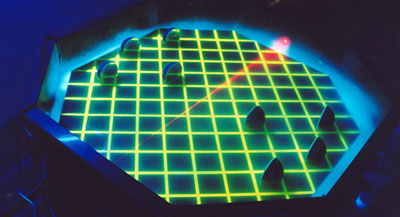 We didn't make anything as cool as Laser Chess, but we did set up the Lazer Tripwire we told you about a few days ago.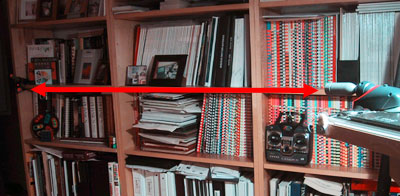 The Wild Planet Lazer Tripwire works quite well and it's a lot of fun. It will make a perfect gift for the junior spy-in-training or the grown-up spy-wanna-be on your list this holiday season. Go check out the FirstUse videos here.
December 5, 2005
Some of us used to string fishing lines around our room with little bells attached so no one can sneak up and surprise us from behind. Technology have advanced some since when we were 8 years old... but the principles are still the same: put up a detector around a perimeter, sound an alarm if anyone enters, and launch the rubber band defensive measure when necessary.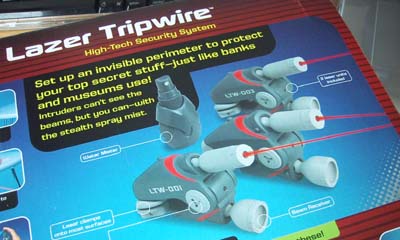 Wild Planet's Lazer Tripwire is the perfect device for junior spies (and some older cubical warriors) who need to protect an area from the curious.
November 28, 2005
Eventhough most electronics are fairly inexpensive, good gear are still not cheap. It is in the intersection of these two segments that KidzGear saw potential for a niche...adult gadget made especially for kids.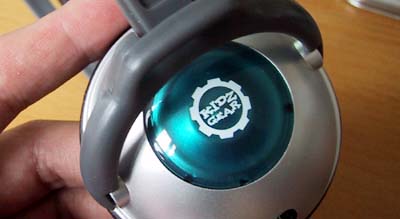 They envisioned a line of gear that are functional, durable, but engineered with the features, dimensions, and price points that make sense for younger users and the parents that must actually pay for them. Go check out these KidzGear headphones here.
We here at RainyDayMagazine are HUGE fans of the CBS TV show CSI. In the show, they always have some really cool centrifuge, DNA sequencer, or HPLC chromatography machine that they use to help with their sample analysis.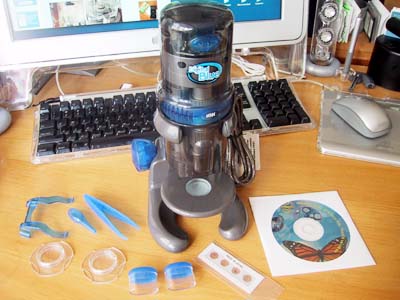 At RainyDayMagazine's new Forensics Lab (...no we don't really have one), we came into the possession of the latest version of the QX series of Digital Microscopes, the QX5. Go check it out here!
October 6, 2005
Dragonflies are probably one of the coolest flying insects on the planet. They can hover, fly forward, backwards, and maneuver in ways unimaginable for fixed wing aircrafts.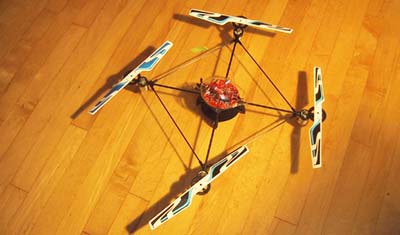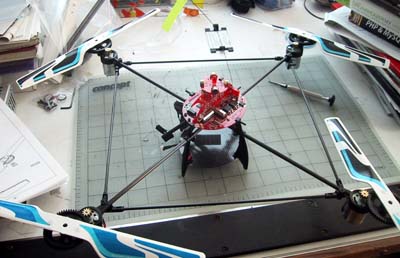 The Draganflyer is probably one of the coolest helicopter on the planet. Based on the company's video, a good pilot should be able to land it on someone's head! Besides, how could we resist a product with a feature called "Thermal Intelligence" ???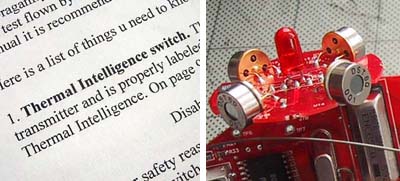 We were not sure what "Thermal Intelligence" was at first. We thought it had something to do with the heat seeking missiles option that we had decided not to purchase. However, it turned out "TI" was a very cool feature of the Draganflyer. With TI enabled, the Draganflyer was capable of "self leveling " when flown outside. It worked by detecting the heat difference between the sky and the ground... very intelligent, thermally speaking!!!
June 17, 2005
We got an amazing toy delivered to the RainyDayMagazine office yesterday... which pretty much guaranteed that our weekend will be sucked up playing with it.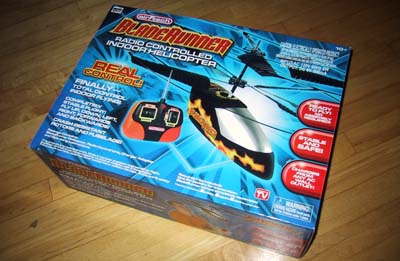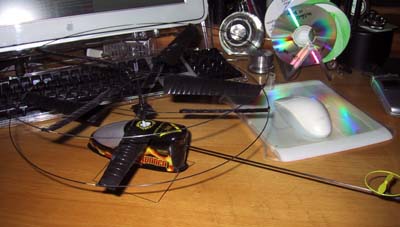 We'll have more to tell you all about in a few days...after we have stop flying it into the ceiling and other obstacles that we have around the office.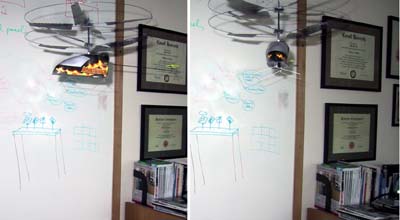 Go check out the "First Look" review of the BladeRunner here. One thing is for sure, the cat is nervous :-)
November 30, 2004
NASA's Hubble Telescope site has some cool Rainy Day Projects... like making your own Hubble Telescope model :-)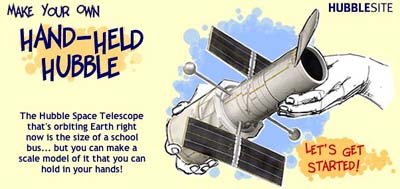 They have step by step instructions WITH the .pdf of decals you can print on your printer. How fun is that!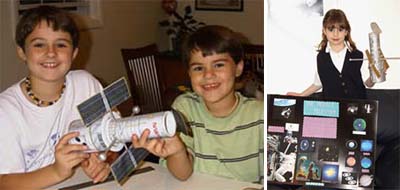 After you're done... send them a picture and they'll post it on the NASA site! [More...]
Hydrogen may be the fuel fo the future for our cars, but Estes has produced a model rocket that actually generates hydrogen fuel from water, meaning all you do is put tap water in the rocket's generator and hydrogen fuel is produced.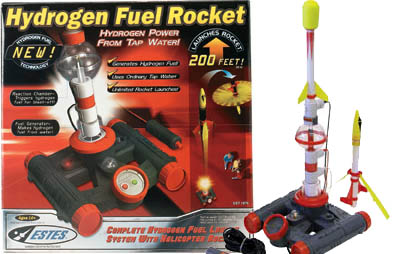 The reaction chamber electrolyze the water in fuel for a launch that sends your rocket up to 250 feet in the air. Sounds a lot more dangerous than the solid propellants of the past...doesn't it? But hey...if it wasn't safe, would they be able to sell it :-) [More...]
Some of us grew up making stuff with Tinker Toys, some with Legos... now there is Zome. With Zome, you can make cool structures, have fun with bubbles, or learn quite a bit about 3 D geometry!

You don't have to care about spheroid carbon molecules, double helix, or any of the structural principles of geodesic to have tons of fun with Zome... but your geeky uncle might :-) So get yourself (or him) a couple of kits for those Rainy Days and make something! [More...]
Want to bring a keyboard with you on vacation but just can't seem to find the room? Next time, consider a Yamano Hand Roll 61 key piano.

It has a built in speaker and connectors for headphones. The only down side is you can't put it on your lap...it needs a flat surface :-)
Just because you are under age doesn't mean you should have lame things to do. In this section, we'll try to list some of the more obscure things for you to do to spend your time. If you have any suggestions... send us a link.
Thanks goes to PopGadgets for this little bit...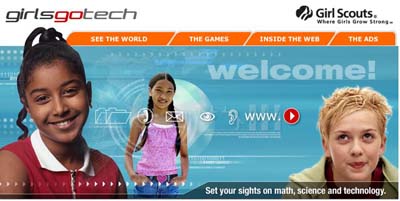 There are some good stuff on the site for girls interested in tech. [More...]
So what if you are not old enough to drive?

If you live around Boston/Braintree, you still get to rev it up at F1 Boston. [More...]
The Powers of Ten, change your perspective and see the world in a different level...